Bi-ski for beginners
This type of waterski used two independent skis, and is generally advised for beginners for his easiness. The bigger ski surface, compared to monoski give the skier more bearing pressure on the water, and let him get out of the water more easily.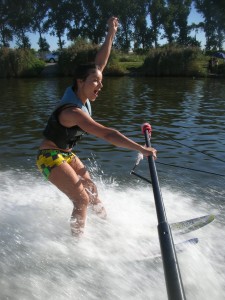 mono-ski
After starting on bi-ski, the skier learns to stand on one ski, then drop one ski when he feels good on one.
After that, you learn deep water start on one ski and finally you try the slalom course .
Classic waterski for confirm skiers and competitors
The skier has to turn around 6 buoys, on a slalom ski, departed from one side and another side of a boat path, entering an entry gate and an exit gate.
After each cleared pass, the boat speed rises (until 36mph for men between 18 and 34 years old). For the others ages, maximal speed is 34 mph.
When maximal speed is reached, we rise the degree of difficulty by shortening the rope after each cleared pass. The goal of the game is to pass the most buoys with as short rope as possible.
Tricks
You have 2 runs of 20 seconds each where you do as many tricks as possible, which have points varying with their difficulty. Tricks are hand held or toe tricks, over the wake or on the surface between the wakes.
Jump
This discipline is really spectacular, and calls cold blood and within the meaning of balance, on water and in the air.
For a counting jump, the skier can't fall at the landing.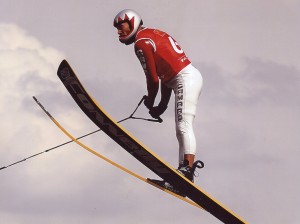 The speed at the bottom of the ramp, the kick and the position in the air, give a good jump distance.  The skier, after choosing his speed (maximum speed for women is 33 mph and 35 mph for men), gets 3 jumps to get the longest jump possible.
wakeboard
Aquatic version of the snowboard.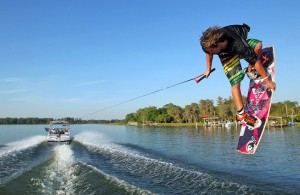 wakeskate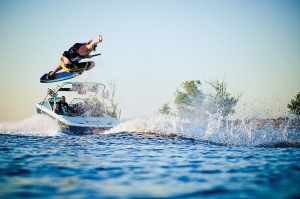 Literally, skate on the water.
Stand up paddle
A board and a paddle make. Really good for the core.
Inflatable tube
A fun sport for everybody.